PROVIDE THE BEST
ONLINE SOLUTIONS
IN THE WORLD!
Our mission is to create an ideal work environment, where everyone will be inspired to work in balance. We want to provide our customers with the best online experience, through innovative services that will help them fulfill their dreams!
Our headquarters are based in a mythical place… Our location is full of history and wonders! The city of Heraklion is the capital of the amazing island of Crete, in Greece. A great mediterranean place to live in, that provides a balanced lifestyle with a great cuisine and mild climate.
While we have customers in 105 countries around the world, we choose to keep our headquarters here, due to the incredible quality of life that Crete has to offer… we live in the place that 4 million people choose every year for their vacations!
That is part of the reason why we want to create an inspiring hub inside our HQs, offering free co-working space to Digital Nomads, freelancers or teams from all around the globe: we want to share our space with creative people that share the same ideas, values and perspective of life with us.
In case you are interested in working in our space, just contact us for the details!
The People
We strongly believe in each one's uniqueness. We all have characteristics that differentiate us, but at the same time, make us part of a team. Two of our main motivating forces at Enartia, are the team spirit and the family feeling we have created within our working space.
Workplace
Some call it "office", some others "company". For us, a workplace is more than a building: it means a beautiful space, cosy offices and comfortable chairs, proper equipment, fast connection, big kitchen tables so that we can all eat together and post-meal table tennis tournaments!
Work/Life Balance
Since our job is part of our life, we try to enjoy small, everyday pleasures: 30' break, fresh fruit and plenty of coffee. Things that make us happy and allow us to go back home with a smile!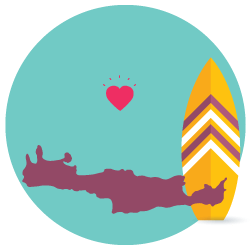 Ideal Location
We live in a place that most people choose for their vacations - Crete, Greece! The climate, the amazing food and the calm pace of a small city improve our standard of living and increase productivity!
Come As You Are
Do you prefer a shirt and a tie or a superhero T-shirt? High heels or flip flops? Dress the way you like and come to the office with a big smile! We couldn't care less about dress code, as long as you feel awesome in your clothes!
Activities
We love spending time together, even if it is outside of the office space! Hiking trips, paintball games and of course the notorious Enartia Beach Party are only a few of our extra activities!